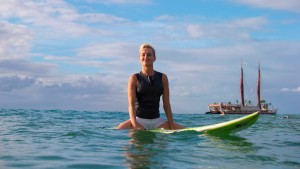 The current WSL Women's Big Wave World Champion was born and raised in the beautiful Hawaiian islands, Keala is one of the best female surfers in the world and arguably the best female big wave surfer on the planet. After a successful career on WSL World Championship Tour finishing runner up to the World Title in 2003. She left the WCT tour in 2007 to star as a season regular on HBO tv drama series John From Cincinnati.
After the shows, conclusion Keala instead of returning to the WCT competition circuit decided to chase her passion for surfing big waves. Keala helped establish a Women's Big Wave Tour and was part of a committee that was responsible for getting women included in the Titans of Mavericks Big Wave Event and winning the fight for equal pay in surfing in 2018. A true pioneer Keala's groundbreaking performances in some of the heaviest waves in the world have shattered glass ceilings in her sport.
She continues to challenge peoples perceptions of what a woman is capable of in the water and break through the gender barrier by doing things that no one ever believed was possible for a female. On land, Keala has another career as an international DJ playing events all over the world. She has also had acting roles on the popular film Blue Crush and HBO's John From Cincinnati. She has been in numerous award-winning Documentaries including She is the Ocean and Out in the Lineup (a film about LGBT Surfers). Keala is a role model for women and a crusader for LGBT rights and equality in women's sports.